Foam Cannon Pro V2.0 for Karcher K
$59.00
| | |
| --- | --- |
| Weight | 0.7 kg |
| Working Pressure psi | 1300-3600psi |
| Working Pressure Bar | 90-250Bar |
| Spray Blade | New Generation |
| Assembled nozzle orifice | 1.25mm |
| Spare nozzle orifice | 1.1mm |
| Spare Parts | 1 mesh filter |
| Mesh Filter | New Generation Sandwich Filter |
| Leak when turned up down | No Leak |
| Easy to change mesh filter | ✪✪✪✪✪ |
| Easy to change connector | ✪✪✪✪✪ |
| Easy to change spare nozzle | ✪✪✪✪✪ |
| Foam Direction | 360 Degree |
| Foam Thickness | ✪✪✪✪✪ |
| Easy to foam vehicle top | ✪✪✪✪✪ |
| Easy to foam vehicle chassis | ✪✪✪✪✪ |
| Spray Fan | Adjustable Width |
| Adjustable Foam Thickness | Adjustable Top Knob |
| Tank Capacity | 1200ml+ |
| Stand Stabability | ✪✪✪✪✪ |
| Suction Tube | Soft with gravity ball |
| Tube Filter | Stainless Steel |
| Tank Lid | Anti-leak |
| Connector/Fitting | New Generation |
| Connector Sealing | No need for tapes |
| Variable Connector Options | Variable Options |
| Break Proof Ability | ✪✪✪✪✪ |
| Ability | Home, HD, Professional |
| OEM Customization | OEM Available |
Great product and fast delivery
A
Andrej Novak
(Maribor, SI)
Best foam cannon i have ever used!
I was supprised that it work's sooo good with a Karcher K2 pressure washer. The smallest in their range. Just replaced the orrifice to 1.1mm and done. I had a karcher original foam cannon, spittung out some soapy water, and a generic ebay one at work that didnt produce nearly as much foam on an industrial Karcher pressure washer with 160bar. Nice thick shawing cream style foam with ProfiLine ActiFoam Energy SONAX at 10ml/1000ml solution. No need for more
Great product. All the threads loctited and high quality.
Thank's
Andrej.
I
Ioannis Galetakis
(Athens, GR)
Best Foam Cannon on the market! Highly Recommended!!!
This product does everything it says! It's the best you can buy especially if you are a pro detailer! Works great with less soap than it's competition! You can choose the angle and toggle the amount of foam you need.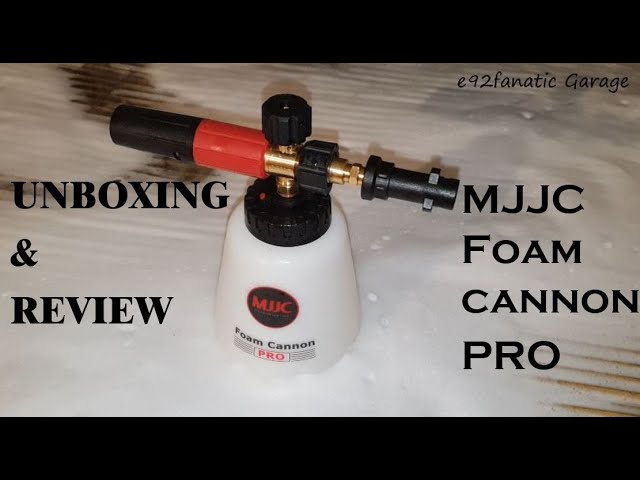 D
Denes Attila
(Gyomro, HU)
V
Vasilije Radoicic
(Belgrade, RS)
P
Peter Taylor
(Livonia, US)
Exceeded expectations!
Can't say enough good things about the MJJC Foam Cannon Pro V2.0 for my Karcher power washer. I installed the 1.1mm inlet that came with the unit and we are talking mega foam. Extremely happy with the performance. Would highly recommend!!!
Mjjc snow foam Review for YouTube
Great customer service and fantastic service with a fantastic product I haven't got a bad word to say about the company or the product from rob at TechAutomotive
Related products